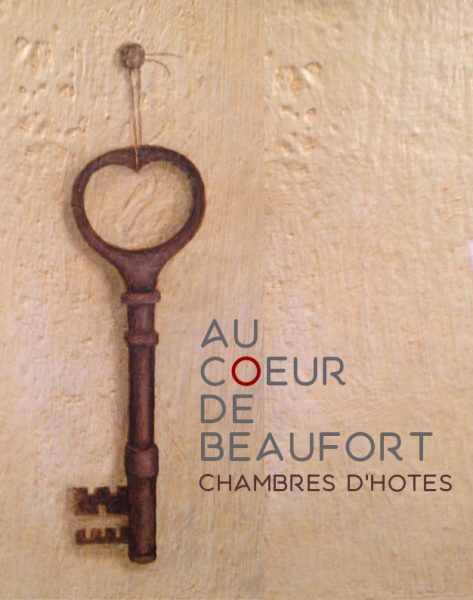 Bienvenue au site.  Nous sommes désolés, mais nous n'ouvrions pas les mois de Mai, Juin, Juillet, aux moins, cette année.  Nous prenons le decision d'ouvrir en Août/Septembre plus tard, si c'est possible, avec la sécurité de santé pour tous!
Welcome to Au Coeur de Beaufort,  a two hundred year-old Maison Vigneron set into the original ramparts of the medieval village of Beaufort (Herault), in the beautiful Minervois  wine region of  Languedoc-Roussillon.  Beaufort  sits at the foothills of the Montagne Noire and the  Parc Naturel Régional du Haut-Languedoc and is equidistant to Carcassonne, (famous for its renovated medieval Cité), Beziers and Narbonne. It is also just under an hour's drive to the many beaches of the Southern French Mediterranean coastline.
Au Coeur de Beaufort was originally three separate dwellings that have been merged over the years to form one large, three storied, stone-walled house,  with a central staircase leading to the spacious first floor bedroom suites: Passion and Indigos. Our room suitable  for reduced mobility persons, Vintage is on the ground floor.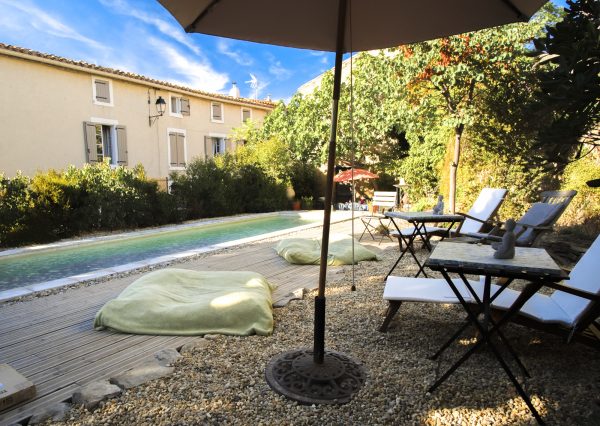 We  first fell in love with all the original features of the house; the floor tiles, marble fireplaces, the rough plaster walls and the winding stone staircase. We have endeavoured, in its renovation, to preserve the charm of the authentic but have added the luxury of contemporary fittings in the  ensuite bathrooms.
The elegant garden and its 10 x 2.5M lap pool, is separated from the house by the narrow rue Centrale.  It provides a soothing oasis to relax in at the end of your exciting days of discovery – visiting the numerous boutique wine domains, places of historical interest and leisure activities nearby. Above all, the 'heart-shaped' garden offers a lovely place to breakfast, swim and unwind in the  cooling breezes that gently circulate throughout the village, which make even the hottest afternoon and evenings by the pool a wholly pleasurable experience.
---
Beaufort village & Surrounding Areas
With its crumbling medieval Château, Beaufort village sits atop a small hill just outside  (2km) of Olonzac, the Minervois' principal  village, offering all the cafes, restaurants and facilities one may require and a traditional weekly market on Tuesday mornings, offering local and organic produce and crafts.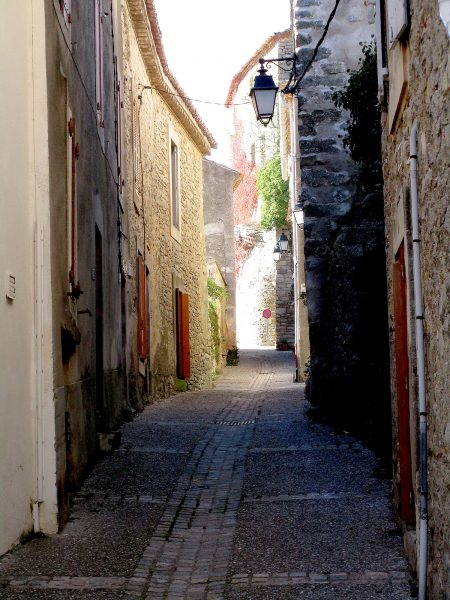 Beaufort  lies between the foothills of the Montagne Noire to the North and the Pyrenees to the South. As such it is within easy access of the numerous Cathar historical sites, including the famous  village of Minerve  just 8km away, known for its siege at the hands of Simon de Montfort. Beaufort is a quiet, authentic wine-growers' village with a well regarded restaurant, the Auberge de St. Martin only three minutes walk from Au Coeur de Beaufort.  There is  another restaurant a little further away by foot or car, L'Asphodèle, in our neighbouring village of Oupia  (1.5km).  Affirmed foodies,We can also advise on and reserve tables for you at a variety of restaurants in the vicinity, ranging from basic French cuisine to Michelin-starred establishments.
For aquatic sports close by, there is  a leisure lake, Lac de Joarres  suitable for windsurfing, dinghy sailing, para-sailing, wild swimming and fishing. Or, for other sporting diversions, there are climbing sites, riding stables and an aerodrome at Lezignan- Corbieres, where one can learn and enjoy sky-diving. The Mediterranean sea is under 50km away (35mins by car).
About your Hosts…
Karin & Rafe McKenna
Semi-retired, Rafe is a world-travelled, Sound Engineer and Master Mixer and he still turns his hand to select projects in his studio nearby (please enquire about Recording and Mixing), Karin, having worked in advertising, specialist perfumes and publishing, is now focussed on the running of  the Chambre d'Hôtes. From the start, we wanted to create a calm, cool, relaxed-luxury  environment for our guests, a Repos Creatif if you like, where there are no strict regulations or formalities about the house, garden or pool –  other than  our guests enjoy the space and respect the peace and security of others.  Smoking is only permitted in the garden area however.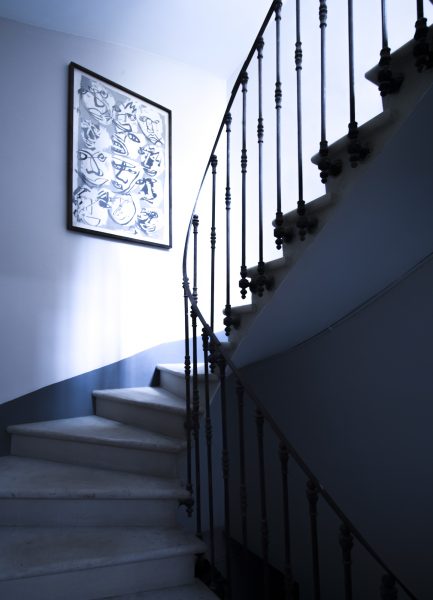 We have both travelled extensively during our careers, so appreciate the little comforts that make all the difference to a Chambre d'Hôte stay: Shower Gel, OLVERUM bath oil, Shampoo, Conditioner, fluffy bath towels and separate beach/pool towels  and Fouta are all provided for those who prefer to travel light.
As we both come from large families of Actors, Musicians, Writers and Artists* we offer a 15% discount to all SFA-CGT,Equity, SAG-Aftra (and equivalent in Country)  Artists and Musicians Union members. Longer stays of 7 days and over will also be offered at a discounted rate depending on availability.*We keep two portable easels for visiting artists and can advise on local suppliers of  materials.
Local Knowledge -We can provide you with as much guidance on where to go and what to see in the area as you like and have copious information to guide you, but likewise, we will leave our guests in peace to enjoy their time at Au Coeur de Beaufort without interference.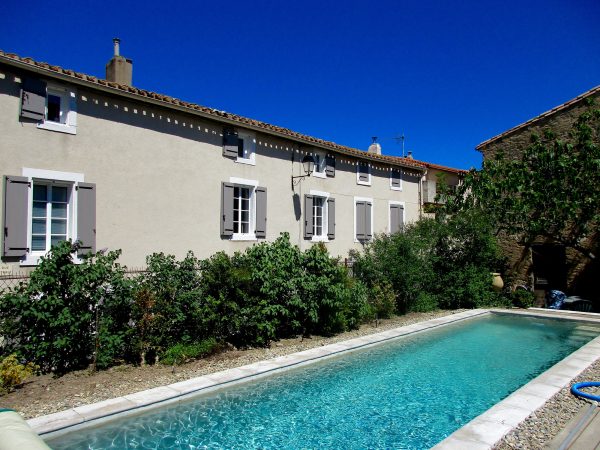 Au  Coeur de Beaufort is currently open from late April to early October  each year, with a minimum stay of  two nights. Costs are from 80€ per room (Low Season)  for up to two guests,  up to 95€ for High Season . The cost includes a plentiful breakfast for two, delivered either to your bedroom suite or  served on the garden terrace by the pool.  A 10€ surcharge will be added for an extra guest  (2+1) staying in Vintage  our ground floor room suitable for persons of reduced mobility. Due to the nature of the house, garden & pool, we do not accept bookings that include children under 12 years, unless all three rooms are booked together over the two day period.
Languages spoken by Karin: Fluent French and English, plus a little Italian, German and Spanish.